We just celebrated my daughter's 12th birthday with a Game Night! It was such a fun way to have some good old-fashioned fun! A Game Night is a great alternative to a big party, but still full of fun! Keep reading for tips and inspiration to host your own Game Night!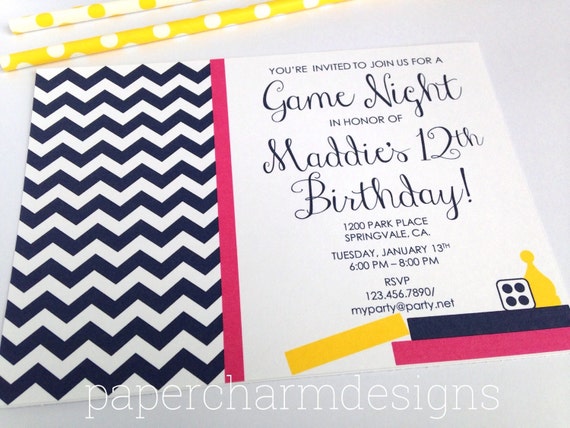 This invitation is the perfect way to get guests excited about your Game Night! Right away they can see that your game night is going to be a modern take on some good old-fashioned fun! You can find this printable invitation in my Etsy shop,
PaperCharm Designs
.
Of course you will need some games! We set out several games, but the game the girls chose
immediately
was The Game of Life. I'm sure you know this one; it was probably a childhood favorite! Amazon has my 2 favorite versions of this game available for purchase. There is the
classic
(affiliate link)
and the
updated
(affiliate link)
version. We have the updated version and I have to say I love it! The classic version is timeless and of course, also TONS of fun!
If you host game nights on a regular basis, I recommend asking each invitee to bring a side dish and you, the host, supply the main dish. Baked chicken tenders and sub sandwiches are quick and easy! Since our game night was in honor of our birthday girl, I supplied the meal, choosing foods that would not get in the way of the girls' fun. Baked chicken tenders, rolls, and chips with dip worked great for our game night. To add charm, I served the dip in navy blue striped muffin cups on a small white cake pedestal.
Paper straws added a pretty pop to drinks on the game table. A plastic table cloth on a folding table made for quick clean up. The table allowed for the girls to have their own space, away from "mom and dad", where they could listen to their favorite playlists and CDs! I added some candy to the table for a sweet treat, and also served the girls cupcakes.
It was a great night of good old-fashioned fun, with some modern touches. The girls had a great time and we are all really excited to host another game night very soon!
Thanks for visiting PaperCharm Designs today!
Shelley
*This post contains affiliate links. I receive compensation for clicks and purchases made through these links.